How can businesses build communities?
Kickstarting a community can seem intimidating. Where do you even begin? Thankfully, humans are wired for connections.
Some of your customers may buy your product once and that's it. Your brand's interaction with your customer ends at the checkout stage.
But brands are now shifting towards a community-focused strategy for long term growth - it entices customers to continuously engage with your brand, coming back to buy your products again and again. Even becoming the best advocates for your brand through word of mouth referrals and helping you scale your customer base boundlessly.

How to create a community around your business?
Kickstarting a community can seem intimidating. Where do you even begin? Throwing a group of people into a pot and getting them to do the same thing is just not going to cut it.
But thankfully, humans are wired for connections. We want to be part of a community. We gravitate towards like-minded people and find comfort in a safe place where we can belong. Building such human connections is the basis of communities.
Forging human connections begins with having a common purpose. Humans strive to be part of something bigger, knowing that what they do as a community has a larger impact than their solo effort. We like to be part of a narrative. What is the story of your brand? How can you involve your customers to be part of your brand narrative?

1. Know your brand
The community surrounding your brand are people who are invested in your brand. They are emotionally connected to your brand purpose - what your brand stands for.
Before you think about a community driven strategy, you need to be clear about your brand purpose, brand tone, brand story. What makes your brand unique? How is it different from your competitors?
Figuring out the value proposition of your brand helps you to find your target audience. They are the people you want to attract.
In our recent Potato Connect session, Vanessa Yeo Barger, VP of Brand at Love, Bonito shares what the Love, Bonito's community - LBCommunity+ - is in relation to their brand. Having identified their brand essence and core, they created brand extension through their community, expanding their customer base and introducing various product categories through the same type of audience.
2. Choose a community platform
Once you figure out the kind of people you want to attract into your community, it's time to find an avenue for them to gather together.
Here's a few things to consider:
Find out where they usually hang out and what platforms they use - Your brand should be meeting them where they are at and speaking to them in a way that they are comfortable with.
If you are looking to build a small close-knit community, a casual whatsapp or telegram chat might suffice. But if you are looking to scale the community and members might not be comfortable with giving their personal contact information, using free online social groups would be a better option.
Free vs owned platform - Do you already have a loyal fanbase who can help kickstart your own platform? If yes, you can choose to host a forum on your own website and get a few loyal customers to be the main contributors to discussions. You can even allow members to create private accounts to share their own content.
For example, TripAdvisor created an online forum on their own website for their community members to interact with one another. They are free to ask any questions and look for advice or recommendations on travel and vacation-related topics. Free-flowing conversation is suited to their ideal customer who is looking for unbiased travel tips. Some members can even share their own travel expertise on their own accounts and build their own following.

Online vs offline communities - The COVID pandemic has shifted most offline communities online. But with restrictions easing up, brands can think about the option of having an offline community, and how offline and online presence can build on each other.
For example, Tupperware has built an offline community since the 90s, with housewives hosting the iconic Tupperware parties for fellow mothers, friends and family members. These parties are a great avenue for members to interact in person and take an up close look at the usefulness of Tupperware products for food and beverages.
With the need to move online, Tupperware parties still remain as their main marketing speciality, but housewives are now equipped with new digital tools. Tupperware leverages social media tools for social selling, such as helping housewives host youtube LIVE events - literally taking the party online.

3. Partner with authentic influencers
Within your niche community, there would be a few influencers who have a strong reach and an existing fanbase. Their words speak volume and lend you credibility. Partnering with them can help your brand appeal to more audiences in your ideal demographic, who might not have been your customers previously.
Choose a few influencers or influential figures who genuinely care about the cause you are championing for. Some of them would even partner with your brand and do a free shout out for you on their social media accounts, if they find that your brand purpose resonates with them.
In Love, Bonito's latest partnership with Mattel's Barbie, they held an Insta Live with mega-influencers such as Chriselle Lim, Marion Caunter, Grace Chan, and their very own founder Rachel Lim, garnering millions of views. These influencers are role models in female success and empowerment, making them desirable figures for their brand to be associated with.
4. Create content and events for them and with them
Most of us meet up with our friends over meals - brunch, lunch, dinner, or we attend activities together such as exercise classes. It helps us to stay in touch frequently and strengthens relationships over time.
This applies to your community as well. Organise events and activities for them - give them a reason to gather together. Your role as a brand is to kickstart the events by giving them structure and purpose. You are the facilitator to get things moving and give it momentum so that your community members can take it onto the next level by themselves.
For instance, FINITE is a community for B2B marketers, and they frequently organise events such as roundtables for their members to get a chance to interact with one another more formally. With members getting more familiarised with one another, they are more open to starting their own conversations and promoting their own events on the FINITE slack channels even without the FINITE organisers.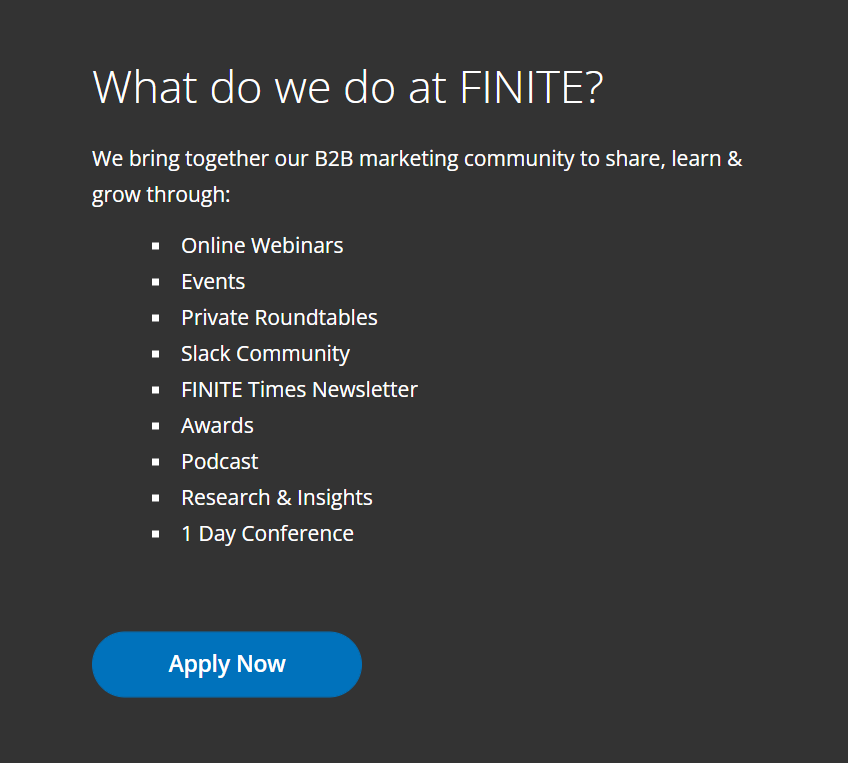 Beside organising events for them, they also create content with them. Their podcast is done in an interview-style where some episodes feature prominent figures of the FINITE community who will share about their marketing experience. Content created with your members helps them to feel valued and gives them a sense of ownership, instead of merely being a passive member. Such content also adds value to other members who can learn and grow from one another's experiences.

5. Create exclusive perks for members
Make your members feel special. By giving them privileges, rewards and recognition, you convey to them how important they are to you. Constantly show that you are listening to them and you value them.
You can start with something simple, such as granting special rights. When Product Hunt just launched, special hunting rights are given to certain members. Early members could also invite their friends, giving them another layer of exclusivity.
Love, Bonito has a specialised package for their members according to their membership tier. By giving them tangible rewards such as birthday perks and early access, members are enticed to engage with their services consistently. Different rewards give each membership tier more exclusivity, drawing members towards a higher status to get additional rewards.
We have included a quick checklist here for you that summarises the steps mentioned above. Use this to kickstart your own brand community!
Validated marketing strategy
Building communities is a validated marketing strategy that has served successful brands well over the years. While it may take your brand a while to attract the initial members and get the community off the ground, it is a worthy endeavour to invest your resources for exponential long term growth.