Wonder who's behind the curtain of the 55 Minutes team?
Meet Wendy, the mind behind 55 Minutes, a human-centred design studio under Potato!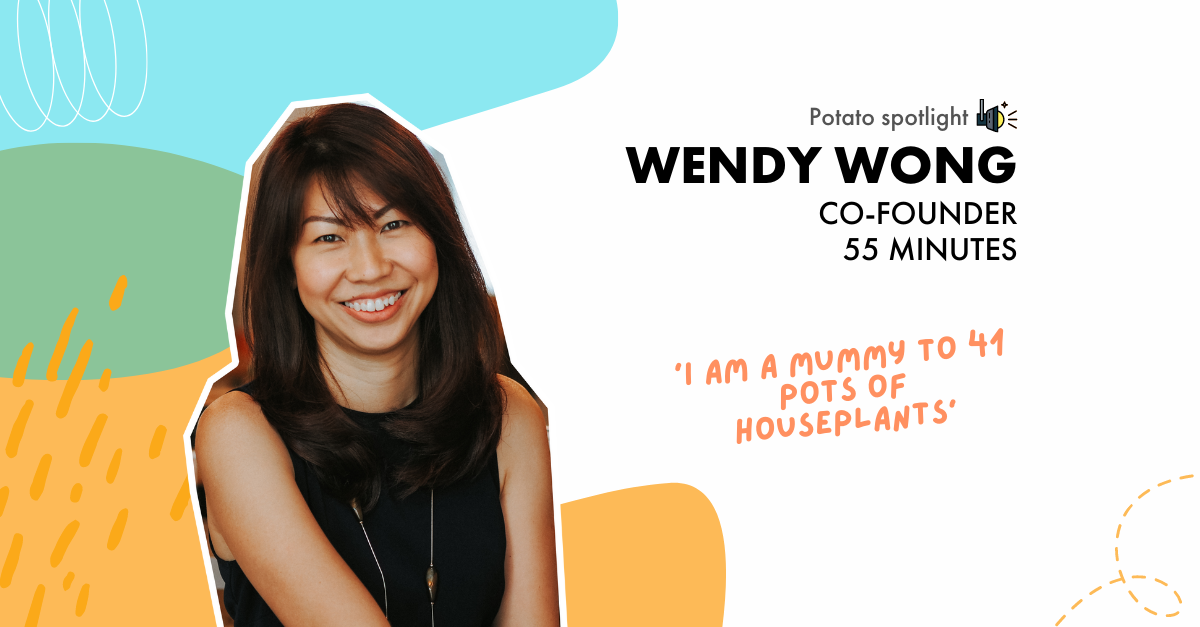 Did you know that Wendy is one of the veterans in Potato (15 years and counting!)? After more than a decade of hustle and bustle, we finally got the opportunity to chat with her.
With a strong passion for user experience design, Wendy started 55 minutes, a Potato company that provides UI UX services by using a human-centred approach. When you think about UX – you might think -'app or web design'. But that's not the only kind of work they do. UX is applicable to physical products too. Wendy's team offers services that are "non digital" such as  user research and customer insights for adaptive clothing. Currently, they are exploring audio UX too. You can read about it here!
In today's #PotatoSpotlight, let's find out more about Wendy's work and other quirks!
1. Tell us a little about yourself.
I am a mummy to 41 pots of houseplants. My plant family grew during the 6 months of Circuit Breaker because looking after them while cooped up at home brought me a lot of joy. But my dream is to be mummy to a dog! 
2. How would you describe your job at a dinner party? 
I humanize technology!
The interaction between man and machine can be unfeeling. It will be increasingly intimidating for users to figure out the different technology at the rate they are being pushed to us (think Covid-19). So as a UX designer, I dig deep into how people behave and feel, and design products and services for people to use with ease, and feel happy while using it.
But on a day-to-day basis, my job is to ensure the company is run well. Creating a positive culture and developing the business are integral parts of my work.
3. What is the biggest misconception people have about your position? 
Some people assume being a head of a company means I am the boss and the staff will do all the work. Haha! That's far from the truth. Being hands-on with the team is important to me but there's a whole lot of planning, problem-solving, and networking behind the scenes. 
Others who may not fully appreciate what UX is think it's just a fancier label for digital design work. However, UX design demands me to read widely, conduct research, and apply critical and empathetic thinking. It's like I do both art and science.
4. How has it been like working in Potato? 
Potato is a very welcoming place where everyone is an equal member of a big family. We feel truly valued. It doesn't matter if we come from diverse backgrounds and cultures, there are various platforms for our voices to be heard and we are given ample trust to do our best for our companies. 
Here, there is that sense of a safe space to express and experiment because they are deemed as necessary for growth and innovation. What's cool were those serendipitous conversations when I bumped into someone in the kitchen; people were always doing interesting stuff! I miss that.
Hans also encourages us to learn new things and expand our thinking. My heart is full of gratitude for the various learning opportunities Potato has given me.
5. How would your teammates describe you? 
I am curious too! Hmm, I suppose I am like the mother hen who keeps the flock together. I'm particular about punctuality? And, I am lousy at trivia games! 
6. What is one mistake you have made on the job and what have you learnt? 
During the early days of setting up 55 Minutes, it was hard to find a suitable senior employee to join us despite putting up hiring posts for a few months. In my haste to hire someone, I didn't verify a candidate's skills with a design task during the interview. And although I had an odd feeling about him, I couldn't quite put a finger on it. So I chose to ignore it and offered him the job. But two weeks into his probation, it became clear that he was unsuitable for both the role and the team culture I wanted to build; I had to fire him, unfortunately.
Lessons learnt:
Leaving the role vacant, for the time being, does less damage to the company than hiring an unsuitable teammate.
A robust interview process is important, so design it well and give the process time. 
Listen to my gut.
7. What energises you at work? 
The people I work with. I love how dedicated my team is to their craft, always giving their best and constantly seeking to improve. They inspire me to be a better, and kinder person. Of course, there is also immense satisfaction coming from being able to solve client's needs.
8. What was your most memorable project?
When the company first started, we did not have an official 55 Minutes portfolio to showcase our capabilities. But the founder of iMath, Yueh Mei, trusted us. She gave us the opportunity to relook into the way users were interacting with their app and welcomed the UX and UI solutions that we found were more suitable for their target audience. 
It was an enjoyable one-year partnership because everyone in their team was friendly, professional, and open to our ideas. The experience allowed us to showcase our abilities—we executed a full set of design (website, app and branding designs), giving us the opportunity to build a strong portfolio.
9. What's one thing most people don't know about you? 
I have an advanced open water diver's license. But. I still have a phobia of the open sea. 
10. What fictional place would you most like to visit?
There's two!
The Shire, Bag End in Hobbiton.
Underwater city where Ponyo lived when she was a goldfish.
---
If you would like to have a chat with Wendy for more information on her UI/UX services, click here!