A story about a girl who was late for everything in life
Did you know that Tuber, headed by Wei Ping was the first company that planted the roots of the Potato group?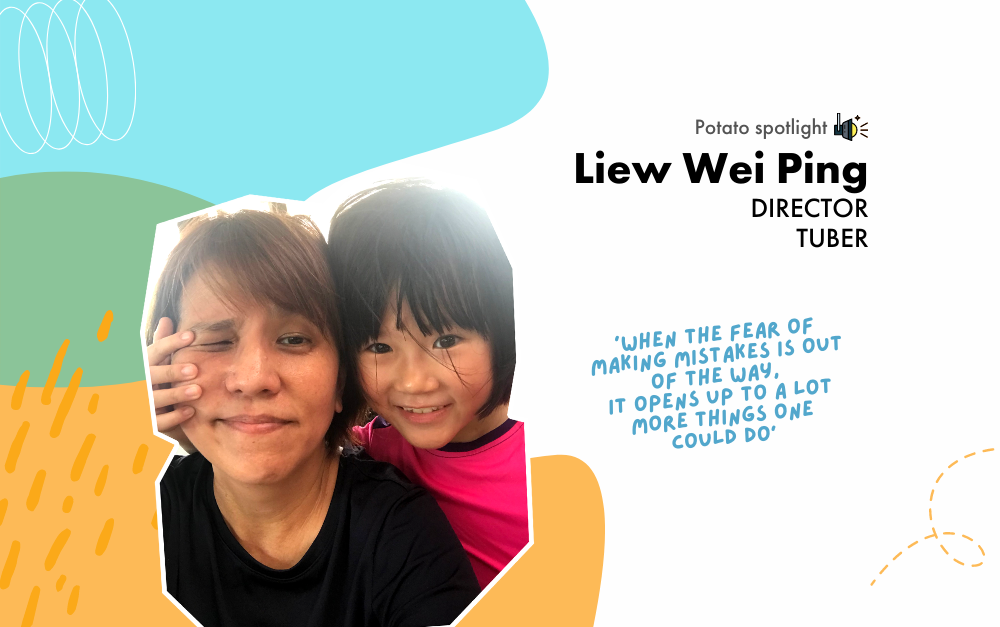 If you are familiar with Potato's history, you may know that Tuber was the first company that planted the roots of the Potato group! And it has been helmed by Weiping for more than a decade as the Director for Projects and Operations. From branding to editorial publication and digital content, she is well-versed in the field of design. 
In today's #PotatoSpotlight, let's learn more about her working process in the creative field and the important aspects that are required before executing any project.
1. Tell us a little about yourself!
I'm a late bloomer. I am late for most big things in life: late puberty, late dating, late marriage, late motherhood. On the contrary, I am a very punctual person as I do not like making people wait, and vice versa.
2. You have had a lot of experience working in the design field. What kind of questions do you ask before beginning any design project? Which piece of information is of utmost value?
To client: Who are you speaking to? With that nailed down, the tone and direction is more or less set. Then, follow-up questions on deliverables, lead time and budget.
To self and team: Why do we want to do this? For portfolio? For creative experiment? For money? For good cause? For fun? The bottom line is, there must be a meaningful purpose to work on them. We need to like what we do, if not, work can get miserable.
3. What is your creative process like?
I take reference from everything and anything. And with due respect, I think it is totally okay to use something irreverent for a serious subject. I get many workable ideas and inspirations from the frivolous pop culture consumed since young. All those sleepless nights spent binging on manga/anime/cult films and cheesy dramas actually pay off. (The dark circles under my eyes are solid proof!). So, don't just stick to a certain genre.
4. Tell us about one of the greatest challenges you have encountered in your work.
My 6-month stint in Shanghai to oversee the construction of Sony Gallery when I was still working with an American agency. The exposure to the different work cultures (Chinese, Japanese and American) was intriguing but at the same time arduous. I remember having to negotiate and manage the conflicts among the parties almost on a daily basis, in different languages, while nursing a nasty bronchitis during the winter (I really thought I was going to die from the cough!). Also surprised to find the tenacity in me which pretty much set the limit of how far I can go too.
5. What is the best piece of advice you have ever received?
It's just work at the end of the day, there are more important things in life…
6. What made you continue staying in Potato?
It just happens! Ultimately, it's the company culture. We were given ample space to grow and learn, even room for failure. When the fear of making mistakes is out of the way, it opens up to a lot more things one could do.
7. Have you ever had to "unlearn" something in your professional life? What was it?
Not sure how to "unlearn" something? I suppose everything I learned has been useful to me and I can adapt them accordingly to each situation?
8. What's that thing you have never done before that you want to do in the next one year?
Take a sabbatical! I realised I have not stopped working since the very first day of my first full time job.
9. If you could choose to do any job in the world (given that all jobs have the same salary), what would it be?
Anything that's animal-related. I really enjoyed the handson experience when I was volunteering with the zoo where I had the privilege of getting my hands dirty on scooping rhino poop, relocating hissing cockroaches, cleaning maggots off of a lion's head for taxidermy and releasing snakes to the wild (in India). It would be wonderful to be paid to do those things!
---
If you would like to have a chat with Weiping for more information on her design services, click here!